The Perfect Peel®
5-ACID BLENDED MEDICAL GRADE MEDIUM PEEL WITH GLUTATHIONE, VITAMINS AND MINERALS
The Perfect Peel is an innovative 5-acid (TCA, Kojic acid, Retinoic acid, Salicylic acid and Phenol) blended peel with Glutathione, vitamins and minerals that will transform your skin into looking younger, fresher, healthier and noticeably clearer, in just one week. The Perfect Peel is a medical grade medium depth peel and is suitable for all skin types.
Glutathione is the ultimate antioxidant, penetrating deep into the cellular level of the skin to fight oxidant damage and is the anti-ageing answer to premature wrinkling. Our bodies naturally produce glutathione but as we age, our levels deplete due to sun exposure, air pollutants, environmental stress and the ageing process itself. Glutathione is also proven to reverse melanin's metabolism, lightening dark pigmentations.
Kojic acid is a powerful lightening agent and proven to increase collagen and elastin production, resulting in skin that is brighter and tighter.
TCA, phenol and retinoic acid reduce wrinkles and correct pigment problems, while salicylic acid exfoliates the skin and reduces inflammation.
Alone the ingredients are powerful, but in combination they produce results that are astonishing
How Does The Perfect Peel Improve The Skin?
The Perfect Peel will:
Diminish fine lines and wrinkles
Reduce enlarged pores
Help build collagen and elastin which will help to tighten and firm the skin
Reduce or even eliminate Hyperpigmentation and Melasma
Dramatically improve acne and acne scars
Fights free radical damage to remove discoloration due to sun damage
Prevent wrinkles and age spots
Evens out overall skin tone and complexion
The Perfect Peel is suitable for All Skin Types.
The Procedure
Skin is cleansed before the intensive peel solution is administered over the treatment area. Slight stinging or tingling sensation may be felt during application but will subside after just a few seconds. Numbing takes place once the first layer of The Perfect Peel solution is applied. Number of application layers will be adapted to the skin type and the severity of the skin condition being treated. A fan or cool breeze may be used for the comfort of the patient.
Application process takes about 15 minutes, the peel solution remains on the skin, thorough advise and instructions are provided along with individual home treatment pack with retinol wipes and a vitamin C moisturiser to assist the peeling process and to promote faster healing.
One of our experienced nurses will call you the day after to check how you are feeling or if you have any questions you will also be provided with our 24 hour helpline manged by our experienced nurses, in case you need to reach us during our of office hours.
Before & After Photos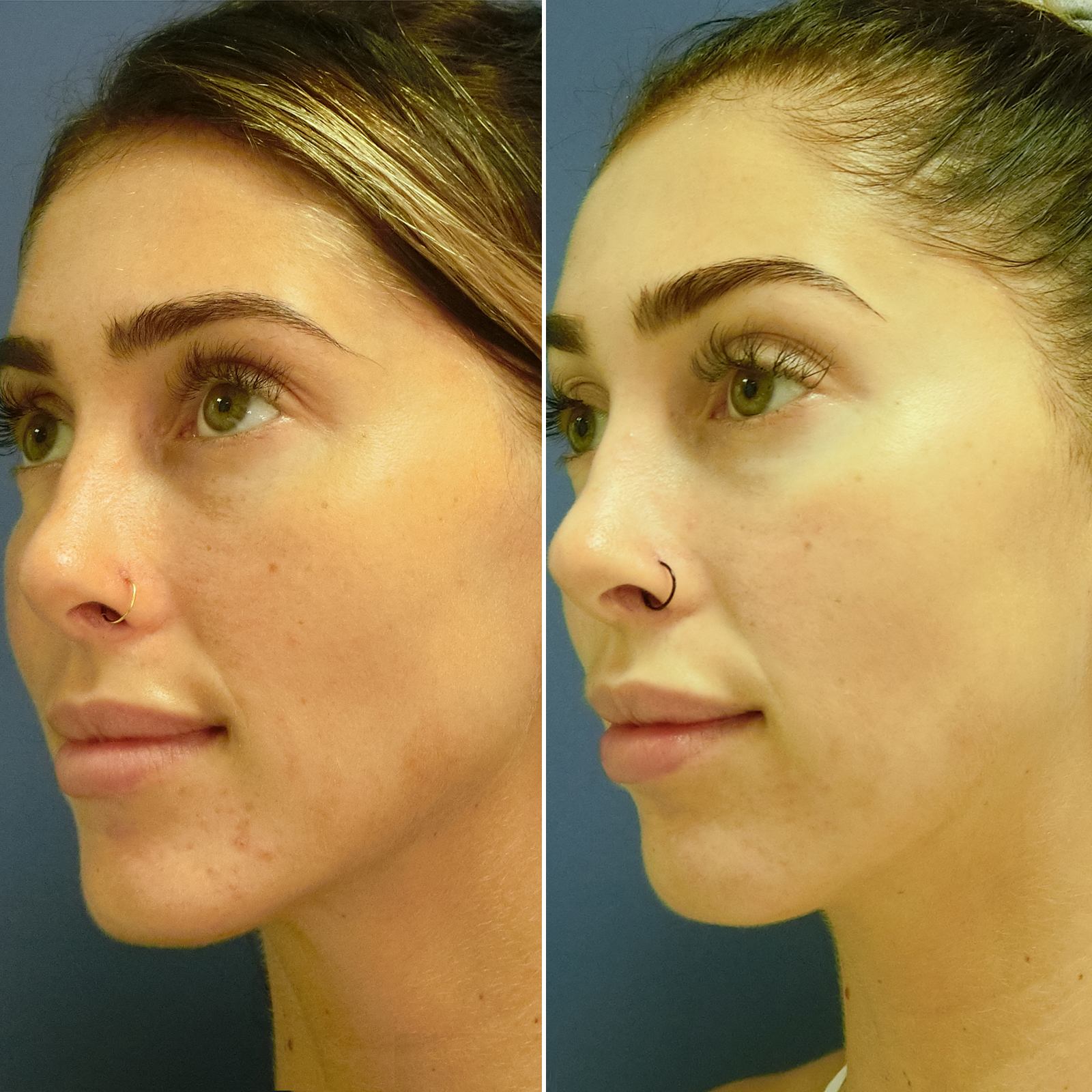 Following The Procedure
Immediately after the peel has been applied the skin will either appear red, like a sunburn, or darker. On day three peeling will begin and the skin will be more sensitive during the peeling process. Generally, by day six or seven the peeling process is complete and immediate improvement is seen. The appearance of skin will continue to improve for the next 4 to 6 weeks, becoming firmer, clearer, smoother, healthier and more youthful.
Following the procedure, detailed verbal and written aftercare advice will be provided along with an individual home treatment pack. This pack contains retinol wipes and a vitamin C moisturiser to assist the peeling process, promote healing and enhance the results.
The Perfect Peel is a medical grade peels, and is not suitable for home use. There are many steps that go into the treatment and many factors are taken into consideration. Patient's medical history is thoroughly reviewed for possible contraindications, the skin type and concerns are assessed before a single or a course of treatment is recommended. Another important factor is that the skin needs to be cared for properly before, during and after the procedure and depending on the the severity of the skin condition, there are specific care instructions that should be carefully followed.
For information about the potential risks and complications associated with Skin Peels please refer to Risks and Complications of Skin peels.
Results
Although, only after one treatment, overall skin tone and complexion will appear smooth, glowing and fresh, multiple treatments may be necessary for optimum results depending on the severity of the skin conditions. A series of 2-3 treatments applied once every 4-6 weeks will allow for optimal results for more severe skin conditions such as Melasma and active acne.
Provided the skin is maintained with good quality skin care products as recommended at initial consultation, skin improvement following treatment will be long-lasting.
At Elite Plastic & Cosmetic Surgery Group we offer a range of skin peels to meet the individual patient's needs. You will have a full consultation where a clinical assessment is performed and any issues relating to your treatment are discussed by you and your skin practitioner. This will help you to decide the preferred peel that will help you achieve desired results.
For details about procedures and treatments or for a consultation, advice and prices from our Dubai clinic please call  +971 4 431 2396 or use our online form.
Gynecomastia also known as "man boobs", is a condition characterised by the abnormal [...]
Overly large breasts can cause some women both health and emotional problems. The [...]
Paying extra attention to your skin is necessary, whether you're battling high humidity [...]