Skin Peels / Chemical Peels
A Chemical Skin Peel is a cosmetic procedure designed to improve the skin's texture and colour tone. It works by removing the outer layer of skin which may have been damaged by age, acne, wrinkles, scarring or pigmentation problems, in addition to sun damage, which is also a frequent problem.
In composition, the skin comprises many layers. Skin cells originate in the deepest layer, and on their journey towards the outer skin layer, they gradually diminish in vitality. Eventually they become the epidermis by which time they have totally lost their initial softness and pliability, eventually becoming horn-like in nature (medically known as keratinisation). Removing the outer layer of skin encourages the body to create a new layer which is free from the condition to which the former skin layer was subject to.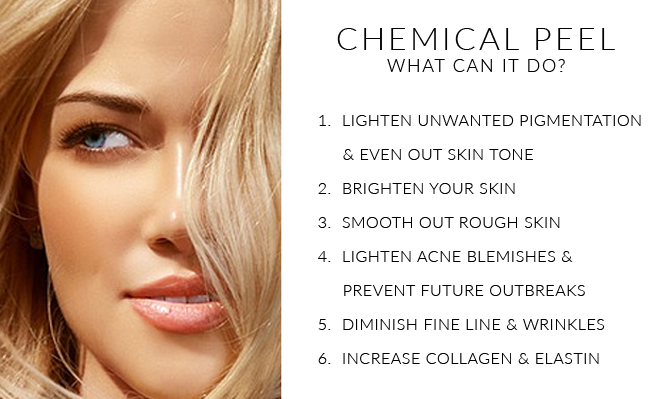 A chemical skin peel when applied to the face can return to it a healthy, youthful glow that is not possible when using surgical procedures such as a Facelift, which would normally be carried out in order to improve conditions of skin and soft tissue sagging. On the other hand, chemical facial peels aim to remove the dead skin cells from the skin's surface to allow new healthy skin cells to grow back creating smoother looking skin.They can also be used to treat blemishes, scars and help reduce the signs of ageing.
Why have a Peel?
A chemical peel can be used to treat any one or more of several possible skin conditions. The following are typical uses:
Improve skin damaged by the sun
Reduce fine lines and wrinkles
Lighten scars (particularly acne scars)
Reduce age spots, hyper-pigmentation, liver spots
To revitalise skin tone and improve texture
To rejuvenate skin around the eyes and mouth and on the face, neck, hands, forearms, chest and knees.
Types of Peels
There are several different types of chemical peel. These peels differ depending upon how deeply each peel penetrates the skin and what type of chemical solution it contains. Factors that can affect the depth that a peel can penetrate include the following:
acid concentration in the peeling agent
number of coats applied
amount of time before the acid is neutralised
Alpha hydroxy acid (AHA) peels including Glycolic Acid (GA) peels are superficial peels. AHA and GA are found in plants and foods such as citrus fruits, apples, grapes, sugar cane and sour milk. Superficial peels, suitable for all skin types, work by removing dead cells from the skin's surface, hence encouraging cell turnover resulting in new skin coming to the surface. The procedure is painless and with no down time. Treatments involving superficial peels can be repeated weekly for up to six weeks.
Tricloracetic acid (TCA) peels are medium depth peels that not only treat the superficial skin layers but also the deeper layers of skin. TCA is employed in various strengths/concentrations that produce progressively stronger effects. The most commonly used strength of a TCA peel is 35%. The 35% TCA peel will remove darker sun spots, freckles and age spots. It will also improve the skin's texture, smoothness, tone, fine wrinkles, acne scars and open pores.
Higher-percentage TCA peels (50%), may require anaesthetic if left on for a longer period of time to produce deeper peeling. TCA peels are all neutralised with water to control their depth. The TCA peel can be used on the entire face or applied in select areas such as on crows feet or lower eyelids. The procedure can be repeated every six to twelve months depending upon patient indication.
Peel Treatments Available at Elite Plastic & Cosmetic Surgery Group

The Perfect Peel® – 5-acid blended peel with Glutathione, vitamins and minerals
The Perfect Peel® is a 5-acid blended medium depth peel with Glutathione, Vitamins and Minerals. What makes The Perfect Peel so unique is Glutathione, a key anti-ageing ingredient which penetrates deep into cellular level to fight oxidant damage leading to repair. All skin types can be treated with The Perfect Peel to improve the texture of the skin, brighten, reduce lines and wrinkles, lighten pigmentation, even out skin tone as well as treat conditions such as congestion and acne.
Skinceuticals Pigment Balancing Peel
For those who have sun damaged skin, melasma or acne scar discoloration this SkinCeuticals peel combines brightening and anti-inflammatory agents with a peeling solution. You'll see a glowing complexion with reduced dark pigmentation. Four to six treatments are recommended for best results.
Skinceuticals Gel Peel Treatment
If you have never had a chemical peel or if you have very sensitive skin, this light SkinCeuticals gel peel is ideal for you. You'll see a brighter appearance with diminished sun damage and a reduction of fine lines and wrinkles.
ALL the Above Peels can be used in conjunction with other Aesthetic procedures such as Laser, Radio Frequency, MesoNatural Face, PRP Therapy, Botox & Fillers, to enhance the effectiveness of these treatments.
Chemical Peel Procedure
Before you can have the chemical peel treatment, it may first be necessary to prepare the skin, which typically involves a pre-treatment for several weeks with Retin A or AHA cream. This also helps the peel work better, just as does keeping any skin infection, active disease or acne under control by the time of the treatment.
AHA Superficial Peels
The skin is cleansed immediately prior to the treatment. The peel solution is then applied to the skin with a small brush, gauze, or cotton-tipped applicator. It is then left on the skin for approximately 10 minutes. A gentle tingling sensation might be felt. Following this period, the solution is then washed off the skin and neutralised.
TCA Medium Peels
When treating small areas of the face, such as the lower eyelids or upper lip, a medium peel can be applied without an anaesthetic. With lower strength medium peels (up to 35% TCA) there will be a mild burning sensation. Although for full face resurfacing, sedation will be necessary so as to minimise discomfort.
The skin is cleansed immediately prior to the treatment. The peel solution is then applied to the skin with a cotton-tipped applicator. The depth of a TCA peel can be varied by mechanically rubbing the peel solution into the skin. In such circumstances, the skin will turn white with a sort of frost-like effect. The skin is then neutralised and cleansed. Following the treatment, ointment is applied so as to minimise discomfort, prevent the areas from drying and also to assist with the healing process.
The medium peel procedure will take approximately 40 minutes. Following the peel, there will be little or no pain.
Following the Procedure
Post-treatment instructions regularly call for plenty of rest and limited movement in order to speed up the healing process and time to recovery. And so as to speed up healing, appropriate skin care will be very important. This also helps results last longer, prevent infection and avoid colour changes in the treated area resultant from exposure to sunlight. Appropriate skin care will typically involve the following processes:
Regular cleansing of the skin with water
Changing the dressing or re-applying ointment to the wound (in the case of medium and deep peels)
Daily moisturising of the skin
Avoidance of any sun exposure until the skin peeling has stopped and sunscreen can once again be used. Once peeling has stopped, daily sunscreen should be applied, since new skin is more susceptible to damage from the sun's rays.
Following the AHA Superficial Peel
Superficial peels are carried out on an outpatient basis and do not require anaesthesia. They involve only slight discomfort following treatment, and the majority of patients can immediately return to their normal activities. The skin heals quickly following a superficial peel. It may turn a pink colour, and rarely will more than minimal peeling occur. Makeup can be employed to hide any areas of redness until it fades.
Following the TCA Medium Peel
Medium peels are also usually performed for patients on an outpatient basis, but a few days off work may be needed for recovery. A medium peel creates a second-degree burn to the skin. To assist with the healing process and minimise swelling, an ointment and dressings are applied immediately following the treatment. Patients will be instructed to keep the affected areas of skin treated constantly with ointment application during the first 1 to 2 weeks. The skin will take 5 to 7 days to heal to a degree where makeup can be applied to hide the redness resulting from the peel. There will be little or no pain but there may be some swelling following the peel, particularly if the region around the eyes has been treated. In 2 to 3 days the skin will turn a reddish-brown colour; crusts will develop which then flake and peel over the following few days.
Risks & Complications
Possible risks and complications involved with Skin peel range from disappointment with lack of significant improvement to serious, permanent scarring. However, there are ways to minimize your chances of experiencing a complication.
For further information concerning the risks and complications associated with Skin Peels please refer to Risks and Complications of Skin peels .
For details about procedures and treatments or for a consultation, advice and prices from our Dubai clinic please call  +971 4 431 2396 or use our online form.
Gynecomastia also known as "man boobs", is a condition characterised by the abnormal [...]
Overly large breasts can cause some women both health and emotional problems. The [...]
Paying extra attention to your skin is necessary, whether you're battling high humidity [...]