Tummy Tuck (Abdominoplasty)
Pregnancy, weight loss and the natural ageing process can all cause the abdominal muscles and the skin on the tummy to become weak and loose, which in turn can mean that no amount of exercise will smooth or tighten the area.
Tummy tuck also known as abdominoplasty is a surgical procedure that addresses excess skin and lax abdominal muscles whereas liposuction addresses only excess fat. Tummy Tuck is part of the group of 'body-contouring' procedures, which also includes Fat Removal (liposuction), Skin-Tightening (arm, thigh and buttock lifts) and Muscle enhancing (calf, buttock and pectoral implants, and abdominal six-pack etching).
Who requests Abdominoplasty surgery?
Women with excess skin and fat following pregnancy, etc.
Patients with residual folds of skin following weight loss.
Patients with stretch marks following pregnancy or weight loss.
Patients with weak abdominal wall muscles following weight loss, pregnancy, etc.
Technical Variations of Abdominoplasty
Procedures used to reshape the tummy include liposuction, mini-abdominoplasty (also includes apronectomy), standard abdominoplasty, extended abdominoplasty and flankoplasty.
Mini-Abdominoplasty also known as mini-tuck
Excess skin and fat above the pubic bone are removed.
The Abdominal muscles below the belly button (umbilicus) can also be tightened if needed.
The belly button remains intact.
The procedure is performed under general anaesthesia, takes sixty to ninety minutes, and is occasionally done as a day case. However, most patients stay in hospital overnight.
Apronectomy (a form of mini-abdominoplasty)
Involves removal of larger excess skin and fat (the apron) hanging down over the pubic area and genitals.
The belly button remains intact.
The procedure is performed under general anaesthesia and may take up to two hours. Patients stay in hospital overnight.
Standard Abdominoplasty
Excess skin and fat between the pubic bone and belly button is removed and the abdominal muscles are tightened.
This leaves the belly button itself in place. However, in pulling the skin at the level of the umbilicus down to the pubic level, the umbilicus must be brought through the new skin lying over it. Consequently, this form of tuck results in a long curved scar at the pubic level, along with a circular scar around the umbilicus.
The procedure is performed under general anaesthesia and may take up to three hours. Drains may be used, and patients remain in hospital for at least one night.
Extended Abdominoplasty
This is a more radical extensive procedure than standard abdominoplasty.
The incision is continued around the waist and onto the back.
Excess skin and fat are removed from this wider area around the flanks, resulting in a longer scar.
As with the standard abdominoplasty, the umbilicus must be brought through the skin, resulting in a scar around it.
The procedure is again performed under general anaesthesia, and may take between three to five hours to perform, especially as the patient has to be turned during surgery. Patients remain in hospital for at least one night.
All the above procedures can be combined with Muscle Plication, in which the muscles over the abdominal wall are sutured back in to position, tightening the muscles, flattening the tummy and reducing the waistline.
What to consider at this stage
Before you see the surgeon, it is important to consider exactly what you are trying to achieve from your surgery. In particular, you must understand that Abdominoplasty surgery is most definitely not a treatment for weight loss or obesity. Scarring is another important factor to consider. Scarring will fade over time and, in many patients, will heal to form very faint white lines. However, it is important to remember that surgical scars are permanent and will never totally disappear.
The Importance of a thorough Consultation
The importance of the initial consultation cannot be overemphasised. At your consultation, Dr Allen Rezai will fully discuss every aspect of your aesthetic goals and address any concerns you may have. He places the utmost importance on providing his patients with all the information they need to make fully informed decisions, ensuring each one arrives at the outcome that's best for them.
Your medical history will be discussed with you. It is important that you answer all questions as honestly and accurately as possible, as failure to do so can have significant clinical repercussions. Please feel free to bring along any medical records that may be pertinent to the discussion. Also, it is important to alert Dr Rezai to any allergies or health issues you may have, along with a record of what medicines or vitamins you are taking and whether or not you smoke. If you are a smoker, you should stop smoking at least 6 weeks prior to surgery and be prepared to wait at least 6 weeks after your surgery before you start again. This is to reduce the risk of complications.
Routine blood tests are required for all patients about 2 weeks prior to the surgery and, in most cases, a urine pregnancy test will also be performed at the hospital on the day of surgery. An ECG is also required for patients over 50 years of age.
A thorough physical examination during the consultation usually reveals the best procedures for each patient. The physical examination will determine the amount of excess skin, excess subcutaneous fat and the laxity of the abdominal muscles.
The following is a classification system developed to better determine the type of procedure required:
Type 1 – Fat deposit with normal/tight abdominal muscles and skin:
Liposuction only
Type 2 – Mild excess skin, normal/tight abdominal muscles with or without excess fat:
Mini-abdominoplasty with or without liposuction of excess fat
Type 3 – Mild excess skin, abdominal muscle laxity below the umbilicus with mild to moderate excess fat:
Apronectomy with muscle plication, with or without Liposuction
Type 4 – Mild excess skin, total (above and below umbilicus) abdominal muscle laxity with or without excess fat:
Mini or Standard Abdominoplasty with muscle plication, with or without Liposuction
Type 5 – Large excess skin, total muscle laxity, with or without excess fat:
Standard or Extended Abdominoplasty and flankoplasty with muscle plicaton, with or without liposuction.
The ideal abdominoplasty patient has excess skin, mild excess fat and mild to moderate abdominal muscle laxity (Type 5). In contrast, the ideal abdominal liposuction patient has excess fat with normal, tight abdominal muscles and firm skin (Type 1). The Mini-Abdominoplasty is reserved for patients with mild excess skin with or without excess fat (Types 2, 3 and 4). If the muscle below the umbilicus is lax (Type 3), it may be tightened during the same procedure.
Patients with excess abdominal wall fat usually benefit from weight loss prior to an operation. Successful pre-operative weight loss is a sign of a motivated patient and promises a pleasing outcome.
Pre-operative weight-loss is especially encouraged for patients with significant excess intra-abdominal fat (fat beneath the abdominal wall muscles). These patients have a somewhat bulging abdomen with minimal to moderate excess abdominal wall fat (sub-cutaneous fat), normal abdominal muscles and no excess skin.
Working together during your consultation, a bespoke surgical plan will be developed for you. Dr Rezai will explain in detail the treatment options available, the techniques that would be used, and any potential risks and complications you need to be made aware of. Informational brochures and fact sheets explaining each procedure will be provided for your review. Dr Rezai will use his expertise and experience to guide you towards the best option, taking into account your anatomy, aesthetic goals and personal circumstances.
The procedure for abdominoplasty surgery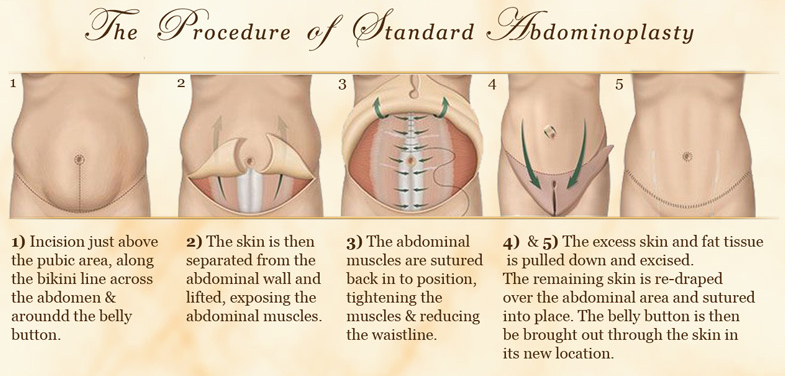 The abdominoplasty operation is performed under general anaesthetic.
Surgery takes between 60 minutes to 5 hours depending on the type of abdominoplasty.
Patients stay in hospital overnight for 1 or sometimes 2 nights.
For those not engaged in physically demanding work, you can expect to return to work after 1 to 2 weeks.
You can anticipate resuming normal physical exercise after 6 to 8 weeks.
At you consultation, Mr Rezai will advise upon a personalised treatment plan. This may involve other body-contouring procedures, especially liposuction.
Following the operation
As with all surgery, following tummy tuck surgery you must expect to feel bruised and sore after the operation. The treated areas are likely to be swollen. It will be necessary for you to wear a tight support garment for several weeks. Most patients are able to fully return to their normal activities within 3 to 4 weeks. Sutures will be removed after ten to fourteen days.
An important point to consideration is scarring. All types of tummy tuck surgery will leave a noticeable scar. Many may be hidden by underwear. As with all scarring, these will fade over time and, in many patients, will heal to form very faint white lines. However, it is important to remember that no surgical scar will ever disappear totally.
At Elite Plastic & Cosmetic Surgery Group, we will provide you with detailed post-surgery instructions to expedite your recovery. Should you develop any doubts or concerns following your treatment, however, they would encourage you to contact us straight away.
Risks & Complications
Cosmetic surgery is amongst the safest of medical procedures. However, patients must understand and accept that no surgical procedure is totally without risk.
For further information concerning the risks and complications associated with Tummy Tuck, please refer to Risks and Complications of Abdominoplasty.
At your consultation, your surgeon will discuss these risks with you. However, it is important to understand that abdominoplasty is a significant surgical procedure, with all of the ensuing implications.
How long will the results of your tummy tuck last?
Tummy tuck surgery can produce considerable benefits, and these benefits last exceptionally well. By maintaining a sensible weight, and preferably exercising, the patient can both maintain and even improve upon the results of their surgery. However, any subsequent pregnancy or weight gain may again produce new fat cells and some degree of skin sagging.
For details about procedures and treatments or for a consultation, advice and prices from our Dubai clinic please call  +971 4 431 2396 or use our online form.
Gynecomastia also known as "man boobs", is a condition characterised by the abnormal [...]
Overly large breasts can cause some women both health and emotional problems. The [...]
Paying extra attention to your skin is necessary, whether you're battling high humidity [...]