Lip Enhancement (6-Point Lip Lift)
As we become older, lips naturally lose their volume, appearing thinner and less defined. Wrinkles and fine lines can alter the smooth look of your lips further, and compromise the shape of the vermilion borders and cupid's bow. The corners of the mouth may even turn down, giving a tired and aged appearance.
Lip Enhancement is a procedure that improves the shape and fullness of your lips. We at Elite Plastic & Cosmetic Surgery Group use non-permanent safe dermal fillers such as Juvéderm and Restylane to help achieve a more alluring look in a short period of time.
Before & After Photos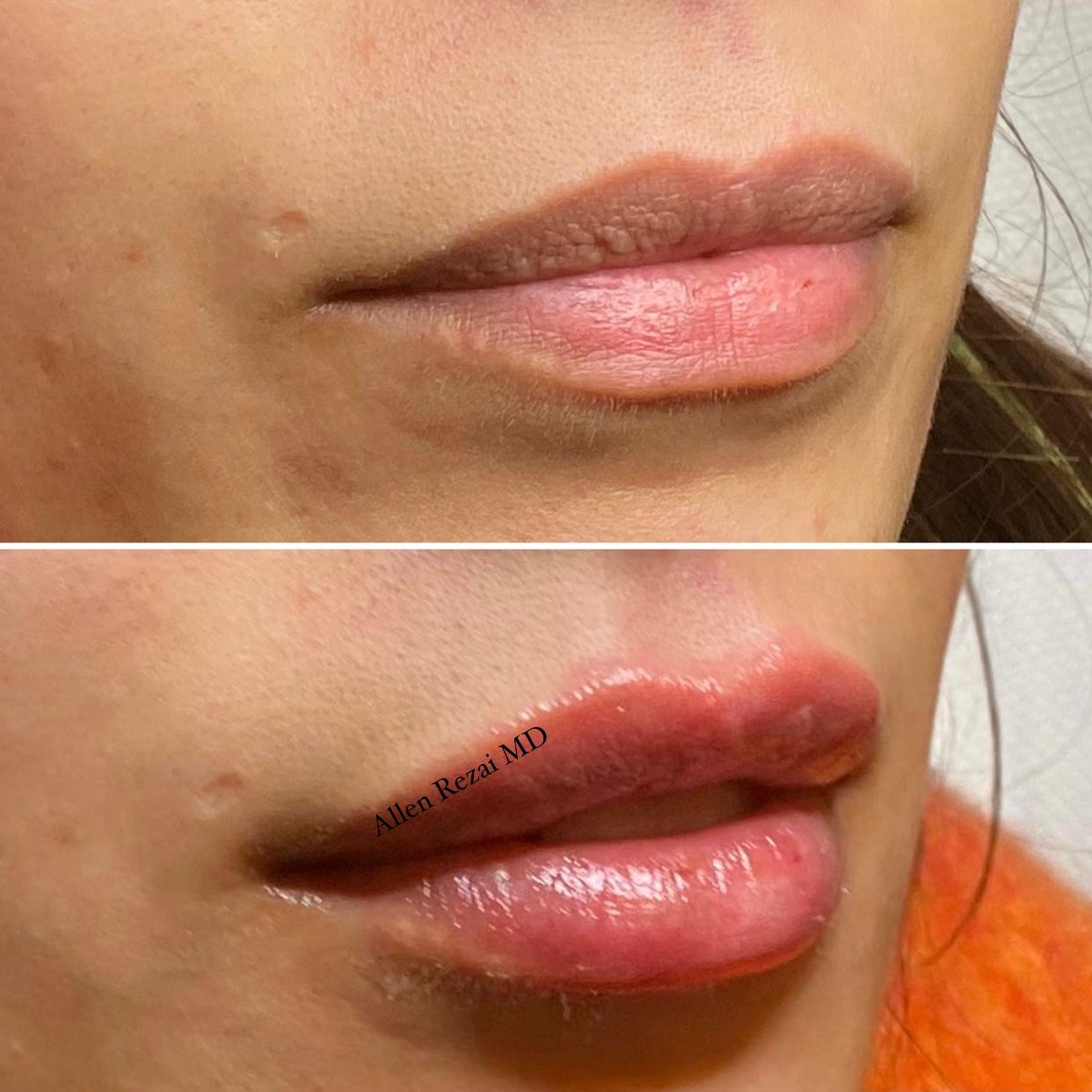 In addition to treating lips that patients feel are too small, lip enhancement is also performed to improve:
Thin or flat lips
No upper lip
Fat lips
No bottom lip
Lopsided lips
Poorly defined lips or Cupid's bow
In cases where the lips are too large, or asymmetrical, a lip lift surgery may be in order. Large lips may benefit from liposuction treatment. These options are usually permanent as the structure of the lips is drastically altered.
How does lip enhancement work?
The lip edges can be treated to restore youthful contours and redefine the borders of the lips this also helps prevent your lipstick from seeping out into the skin – and leaves you with a crisp, well-defined shape.
Enhancing the lips themselves adds natural-looking volume and balance to the body of the lips, producing a sensual and pronounced pout – the most common enhancement our patients seek.
Treatment to the fine lines and wrinkles, caused by pursing your lips or smoking, gives a fresher and more youthful appearance.
The trough between your lips and nose (the philtrum) can also be enhanced to improve lip contour and definition.
Your doctor/nurse will apply an anaesthetic cream prior to the procedure, for your comfort. The advanced dermal filler also contains a local anaesthetic for added comfort and is injected with a small, fine needle.
What are fillers made from?
Originally fillers were made from collagen or silicone. These are now very outdated! The advanced fillers we use are made from Hyaluronic acid which is naturally found in the body. Hyaluronic acid helps maintain structure and thickness of the skin but is slowly depleted through the aging process.
Advanced dermal fillers are not permanent, and will naturally break down. Depending on the area and the individual, the effects will last anywhere from 3 – 18 months.
How long will the treatment take?
Your surgeon will discuss your requirements with you at your consultation to ensure your treatment is tailored to your desired outcome, but it usually takes from 20 to 40 minutes depending on the extent of the treatment.
Are there any side effects?
It is common to have some redness and swelling after treatment, but this usually resolves within a few days. Your surgeon will arrange a follow-up appointment after a couple of weeks to ensure you have achieved the best result.
When will I see the results and how long will it last?
The effect is immediate, and as there is virtually no recovery time, you can carry on with your normal routine after your appointment.
Some Lip Fillers can last up to 18 months in some patients, whereas others last no more than 3-6 months. The effects improve with every treatment. Your surgeon will advise which is most suitable for you.
There are softer fillers that give a more defined sharper look but break down quicker than thicker firmer fillers that give a plumper look and can last much longer. Other issues such as age and smoking have a big effect on the life of dermal fillers. What you will find is that the results will certainly improve and last longer with subsequent treatments.
For details about procedures and treatments or for a consultation, advice and prices from our Dubai clinic please call  +971 4 431 2396 or use our online form.
Gynecomastia also known as "man boobs", is a condition characterised by the abnormal [...]
Overly large breasts can cause some women both health and emotional problems. The [...]
Paying extra attention to your skin is necessary, whether you're battling high humidity [...]