PRP – Platelet Rich Plasma Therapy for Skin / Facial Rejuvenation
Platelet Rich Plasma (PRP) Skin Rejuvenation, also referred to as "Vampire" or "True Blood" Skin Rejuvenation, is a leading edge natural approach in anti-ageing facial and body rejuvenation, using the patient's own blood cells. PRP is the concentrated part of blood that contains the platelets which are the key to the body's ability to stop bleeding and repair damaged blood vessels and cells in the body. Platelets contain substances called growth factors that activate and rejuvenate cells in the body to regenerate new tissue.
Even though PRP Therapy is relatively new in the field of cosmetic enhancements, It has a long history of being used in orthopedic medicine, dentistry and reconstructive surgery, and now its benefits are being applied to other fields of medicine such as dermatology, skin wound healing, facial rejuvenation and hair restoration.
Although PRP for facial rejuvenation is an injectable treatment, it works very differently from Botox, Dysport and Dermal Fillers. With PRP Therapy, the patient is injected with a natural product produced from her or his own body. The PRP works to stimulate collagen production and cell renewal, which provides overall facial rejuvenation. On the other hand, Botox/Dysport and Dermal Fillers are injected directly into individual wrinkles or facial muscles, providing more localised results.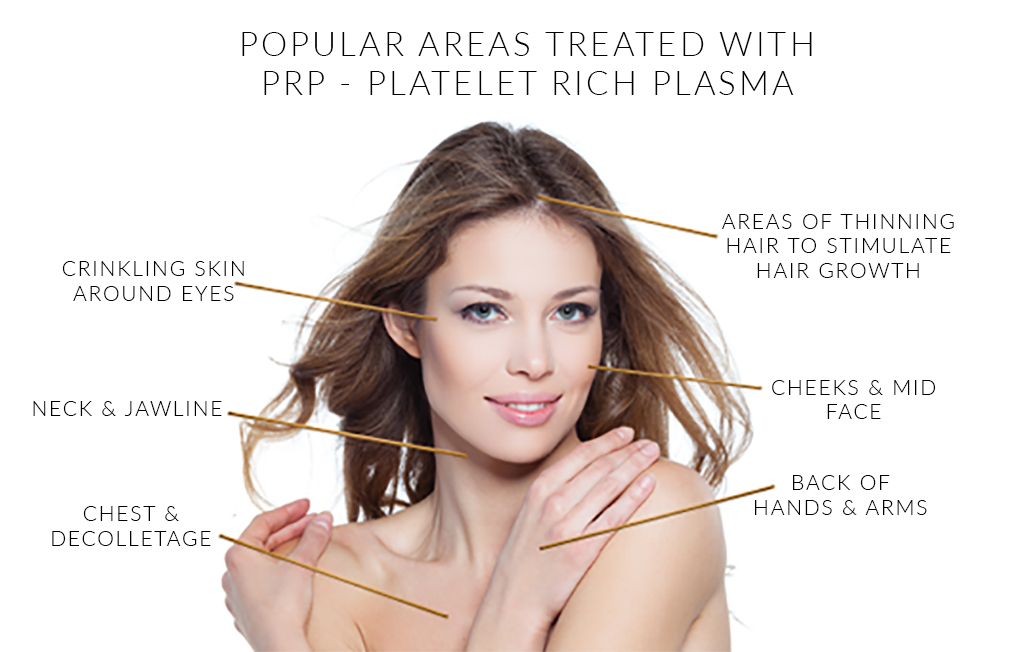 Benefits of PRP Therapy
Improves tone, texture and brightness of skin
Skin is firmed and tightened
Wrinkles and lines are softened
Skin's rosy glow is restored
Skin softness is increased
Facial volume depletion can be improved
Sun-damage, acne scars, Rosacea, dark circles and Hyperpigmentation are also improved.
Who is contraindicated to PRP Therapy?
Smokers, drug and heavy alcohol users
Individuals with skin disease (SLE, porphyria, allergies)
Cancer patients
Individuals having chemotherapy
Individuals with severe metabolic and systemic disorders
Individuals with abnormal platelet function (i.e. blood disorders)
Individuals on anticoagulant and antiplatelet therapy – aspirin, warfarin, dipyridamole or clopidogril
Individuals with Sepsis, acute and chronic infection
How does PRP Therapy work?
The object of PRP rejuvenation therapy is to stimulate collagen production, thereby improving skin tone and texture, tighten skin, and soften lines and pores. The procedure involves a small amount of blood being drawn from the patient, which is then centrifuged to separate the red blood cells from the Plasma – producing a golden-yellow liquid known as PRP (Platelet Rich Plasma). PRP is the concentrated part of the blood that contains the platelets which are fundamental to the body's ability to stop any bleeding and repair damaged blood vessels and cells. Platelets contain substances known as growth factors that activate and rejuvenate cells in order to generate new tissue.
The PRP is then injected into the deep dermis or fat layer of the skin using a very fine needle, similar to that used for injecting Botox. The various proteins and growth factors in the PRP promote collagen growth and cell renewal and repair, thus improving skin texture, elasticity, colour and tone, resulting in a naturally healthier younger looking appearance.
Following the Procedure
The PRP Skin Rejuvenation Procedure requires almost no down time and there is no need for hospitalisation. The following should be expected after the procedure:
Minimal swelling, bruising to a varying degree and redness for 12-24 hours. Applying cold compresses, keeping the head elevated, and using arnica cream can minimize swelling and bruising.
Some patients may experience headache.
Some patients may feel faint.
A bruise at the site from where the blood has been collected may be visible for 2-3 days
You will receive detailed pre- and post- treatment care instructions from your practitioner.
Results of PRP Therapy
For optimum results, a course of 3-5 treatments, 4-6 weeks apart is advisable. Results of the treatment vary depending on the age, genetic makeup and overall health and condition of the skin. Improvement of skin tone and texture begin to show 3-4 weeks after the treatment session and continue to improve with time. The proteins contained in the PRP gradually increase the formation of collagen and connective tissue, promoting tightening and overall skin rejuvenation. Full collagen regeneration will be completed within about 3 months.
The tissue that has been regenerated and remodelled is permanent, however the ageing process cannot be stopped, and as we age the problem areas will eventually reappear. Therefore to maintain the result, touch-up treatments are recommended at an interval of 6-24 months depending on a patient's age and skin condition.
Results may not be very effective for patients who smoke, consume excessive amounts of alcohol or take drugs, because the quality of PRP is typically low in such cases.
Risks & Complications
There is almost NO risk of allergic reaction as the PRP is produced from the patient's own blood and is completely "natural". In addition, PRP contains a concentrated amount of white blood cells, which is the body's natural defence against infections. As a result, infection is extremely rare with PRP Therapy. Secondary infection is extremely rare but does occasionally occur.
Combining PRP Therapy with Other Treatments
PRP Therapy can be had alone or combined with many other non-surgical treatments. The most popular treatment combinations amongst our patients are:
PRP Therapy with Dermal Fillers – The fillers provide an instant fill or volume correction. And the PRP, injected above the filler, immediately kick-starts a skin regeneration process. The use of PRP with fillers not only enhances the skin tone and texture but also prolongs the longevity of the filler – sometimes 3 to 6 months longer than when fillers are used alone.
PRP Therapy with Laser Rejuvenation – This combination is aimed at individuals who have lost their skin's natural elasticity and suffer from poor skin texture and tone. PRP is performed first in order to repair the skin cells which have been damaged due to ageing, sun exposure and other factors. It is applied in the form of sub-dermal injections. Then after 7-10 days the Laser Skin Rejuvenation is performed. Whilst PRP repairs the damaged cells within the deeper layers of skin and also stimulates the building of collagen, Laser Skin Rejuvenation, whilst also stimulating collagen growth, works on different layers of skin closer to the surface. Thus in combination all skin layers are treated, significantly improving the skin's elasticity and texture, resulting in a much fresher and youthful appearance.
PRP Therapy with Radio Frequency (RF) Facial Sculpting – With this combination, similar results to combining Laser Skin Rejuvenation with PRP are obtained. However, the Radio Frequency and Ultrasound treatment also contours the face.
MesoNatural – This comprises PRP in combination with Dermapen® micro-needling. The micro-needling makes tiny "wounds" in the skin which accept the PRP serum and begins the process of collagen creation along with the tissue enhancement from growth factors found in the PRP.
Advice from Dr Allen Rezai on What you should know about PRP Therapy
A thorough initial consultation is essential. You should fully understand all aspects of the procedure and be given time to discuss your concerns and questions with the practitioner before undergoing treatment.
Thoroughly research your Practitioner/Clinic. Word of mouth and recommendations from people you know are usually the most reliable guide.
Cheap is not always best. Don't base your decision on price alone. Find out how many syringes of PRP are used per treatment. In our practice typically 17-21 syringes of PRP are used in a session to treat the whole face.
Treatments should only be carried out in a clean, safe and appropriate clinical environment, so as to avoid infection and permanent physical damage. Treatments should be carried out in a clinical facility and NOT in a home setting or, for example, a nail bar or tattoo parlour.
For details about procedures and treatments or for a consultation, advice and prices from our Dubai clinic please call  +971 4 431 2396 or use our online form.
Gynecomastia also known as "man boobs", is a condition characterised by the abnormal [...]
Overly large breasts can cause some women both health and emotional problems. The [...]
Paying extra attention to your skin is necessary, whether you're battling high humidity [...]