How to Prepare for Laser Hair Removal Treatment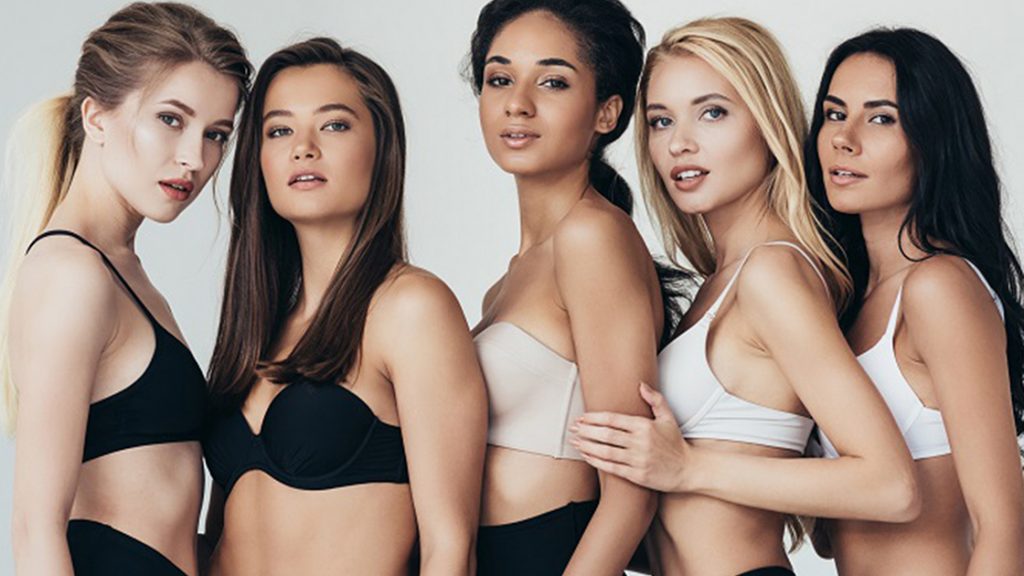 A little bit of effort can ensure your treatment is smooth sailing
The decision to undergo laser hair removal treatment shouldn't be taken lightly. While many patients, both male and female, choose laser treatments to solve their unwanted hair problems—and are very happy with the results—there are potential risks to be wary of, and treatment results won't be the same for everyone. For these reasons, you should take the time to research different lasers, educate yourself on possible side effects, and consult with a professional, licensed laser hair removal provider before starting treatment.
Prior to Initial Consultation
At Elite Plastic & Cosmetic Surgery Group, all patients who book for Laser Hair Removal Consultation, receive detailed pre- and post-laser hair removal treatment instructions on how to prepare for treatment and how to take care of the treated area afterwards.
During Consultation
Your initial consultation is the most important part of your treatment. It is important that you allow some hair to be present in the area so that we can assess your hair type, please also ensure area is free from all products and fake tan.
During consultation, we check through your medical history (including any medications you're currently on), assess your skin and hair to ensure you are suitable. Risks, benefits, and expectations, including what laser hair removal can and cannot do for you will be discussed with you. We answer any questions you may have regarding all aspects of treatment. We want to make sure you have all the relevant information to allow you to make an informed decision whether laser is right for you.
If you are putting your trust in us and investing in Laser we feel it's only right that we invest the time to explain things fully and make sure all your questions are answered.  Based on assessment and of course your wishes a bespoke treatment plan is made for you and related costs will be discussed with you.
The Essential Patch Test
If it's your first time having laser treatment with us, at your initial consultation a patch test on a small area will be carried out, to test your skin for any sensitivity from the laser and also to ensure you are a suitable candidate for treatment. If there are no reactions to the laser within 24h – 48h following the patch test, you may start your actual laser hair removal treatment.
Specific Tips to Prepare for Laser Hair Removal
The initial laser hair removal preparations can begin weeks before the first treatment takes place. At your initial consultation, we will walk you through laser hair removal preparation in detail and give you personalised recommendations for how you can get the most out of your treatments.
However, if your mind is set on having laser hair removal, if all goes well, after the initial consultation, then here are some general tips, specific on how to prepare for Laser Hair Removal, these are necessary for your safety, and to facilitate the procedure and achieve optimum results.
No Tanning
Laser works by targeting the melanin (the pigment) in hair and skin, so if you have a tan, either from sun exposure or tanning beds, spray tans, and tanning lotions, wait until the tan fades before undergoing laser hair removal. We recommend that patients should be wary of direct sun exposure in the time leading up to laser hair removal and to use sunscreen (SPF 50) religiously on any exposed body parts receiving treatment, from 4-6 weeks before and even during the course of your laser hair removal.
Avoid Waxing, Plucking, Electrolysis and Bleaching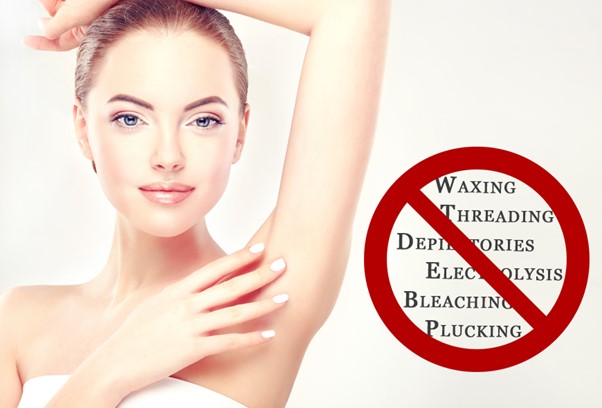 Don't wax, tweeze, thread, use depilatories or bleach your hair for at least 4-6 weeks before your laser hair removal procedure. Removing the hair out by the roots means there won't be any hair for the laser to target. Also by lightening your hair, you are making it more difficult for the laser to identify and target your hair. Shaving is the best way to treat your hair prior to and during the course of your laser treatments.
Treatments to Avoid prior to Laser Hair Removal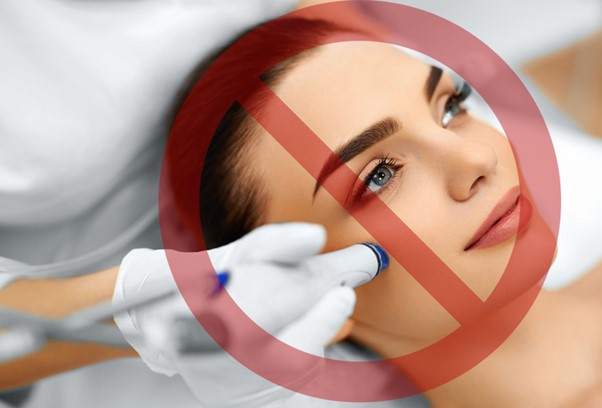 It is important that you avoid having treatments such as chemical peels, microdermabrasions, microneedling, laser rejuvenation or similar treatments, on the area you are planning to treat with laser hair removal. A minimum of 2-week interval is necessary to allow for your skin to completely heal before proceeding with your laser hair removal.
TO Shave or NOT to Shave! Before Initial Consultation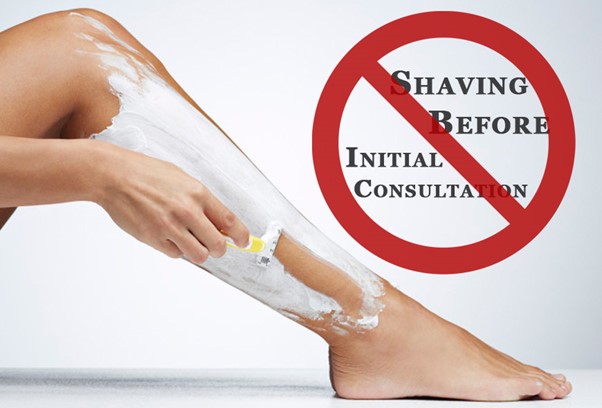 Although Shaving is the best method for managing unwanted hair prior and during the course of your laser hair removal treatment, it is important that you DO NOT shave for about 2 weeks prior to your initial consultation as hair should be present for initial assessment.
For details about procedures and treatments or for a consultation, advice and prices from our Dubai clinic please call  +971 4 431 2396 or use our online form.